tisoware.SECURITY

Digital solutions for your security needs.

Staff, assets and information – tisoware.ZUTRITT helps you protect your organisation. We offer you a comprehensive building security system that makes sure you're aware of what's going on where at any time. Access terminals, key system components and cameras from our longstanding hardware partners like dormakaba, PCS and datafox combine to make tisoware the perfect turnkey package.
Benefits for you.
tisoware.SECURITY is an integrated security solution.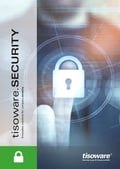 Learn more about tisoware.SECURITY
Ask for our brochure and get to know our security solutions better.
tisoware.SECURITY at a glance.
More security for your organisation.
tisoware.SECURITY in detail.
Secure, flexible and reliable.

Callback service
Would you like to learn more about tisoware? We promise to get back to you as soon as possible. We're available to call you back from 8 am to 5 pm on Mondays to Fridays.