tisoware.HR

Digital solutions for your human resources needs.

tisoware.HR helps you optimise your organization's time & attendance, staff scheduling and HR processes. Our digital HR solutions improve efficiency in your human resources department, making you more attractive as an employer and more successful as a company.
Benefits for you.
tisoware.HR grows with your requirements.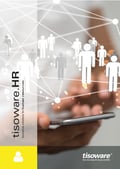 Learn more about tisoware.HR
Ask for our brochure and get to know our digital HR solutions better.
tisoware.HR at a glance.
Digitise your HR processes.
tisoware.HR in detail.
Digital time & attendance, staff scheduling and much more besides.

Callback service
Would you like to learn more about tisoware? We promise to get back to you as soon as possible. We're available to call you back from 8 am to 5 pm on Mondays to Fridays.