tisoware.MES

Digital solutions for your manufacturing and production needs.

In combination with your business software, our tisoware.MES solution helps you optimise your manufacturing processes: we offer you an integrated system with numerous dashboards and indicators. That reduces the burden on your staff and leaves you more time to devote to essential tasks in manufacturing and production. tisoware makes your organisation more successful.
Smart factory written on red.
tisoware's machine data collection module analyses and monitors machine data in real time. Learn more.
Benefits for you.
Optimised manufacturing and production processes.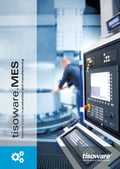 Learn more about tisoware.MES
Ask for our brochure and get to know our MES solutions better.
tisoware.MES at a glance.
Integrated, digital manufacturing execution solutions for your organisation.
tisoware.MES in detail.
Smart factory written on red.

Callback service
Would you like to learn more about tisoware? We promise to get back to you as soon as possible. We're available to call you back from 8 am to 5 pm on Mondays to Fridays.