tisoware.HEALTHCARE

Digital solutions for social service providers.

tisoware.HEALTHCARE helps you optimise your staffing schedules or your time & attendance recording and improves security on your premises and wards. Our digital solutions make your administrative processes more efficient, leading to more transparency and more employee satisfaction. That leaves you more time to devote to essential tasks – and to the people entrusted to your care.
Benefits for you.
tisoware.HEALTHCARE gives you more time to devote to essential tasks.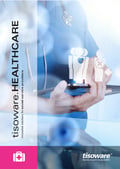 Learn more about tisoware.HEALTHCARE
Ask for our brochure and get to know our healthcare solutions better.
tisoware.HEALTHCARE at a glance.
Digital solutions to ease the burden.
tisoware.HEALTHCARE in detail.
Flexible and easy to use

Callback service
Would you like to learn more about tisoware? We promise to get back to you as soon as possible. We're available to call you back from 8 am to 5 pm on Mondays to Fridays.